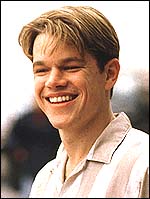 Matt Damon, nominated as best actor for his title role in "Good Will Hunting," shares a best original screenplay nod with co-star and friend, Ben Affleck.
(AP Photo)

n a whirlwind half-year that has seen him go from struggling young actor to A-list cover boy, Cambridge native Matt Damon yesterday was nominated for two Academy Awards for his career-making film, ''Good Will Hunting.''
''It's surreal. I'm stunned,'' said Damon yesterday from Atlantic City. He was awakened yesterday with calls of congratulations after his nominations were announced live on the morning television shows.
''I turned it on,'' he said, ''and I was like, `Whoa, oh my God.'''
Damon was nominated as best actor for his title role of Will Hunting, the emotionally combustible math prodigy torn between developing his talents or remaining with his ne'er-do-well buddies in their dreary South Boston neighborhood.
Damon also shared a best original screenplay recognition with his co-star and longtime friend, Ben Affleck, also from Cambridge.
In all, ''Good Will Hunting'' received nine nominations including nods for Gus Van Sant, best director; Minnie Driver, best supporting actress; Robin Williams, best supporting actor; and best picture.
''I'm so happy for the movie - nine nominations!'' Damon exclaimed. ''I was really happy for Gus, and Robin, too. I think this sends a message to these movie stars. Robin totally cut his price, and he was so amazing to come in and take that role.''
Last month, Damon and Affleck won the Golden Globe for best screenplay. But they were still reluctant to think too much about the Oscars, Damon said.
''We thought a little about it, but we stayed really busy, which was good,'' Damon said. ''We never really talked about it.''
After the nominations were announced, Damon, 27, spoke to Affleck, 25, his best friend since childhood. Both, according to Damon, are ''shell-shocked.''
''I called him, and he just said, `Wow. We're nominated as screenwriters,''' Damon recalled. ''It wasn't like we were screaming on the phone. It's like someone gives you an honor, and you're like, `God, I really hope I can live up to this.'''
Damon also called his family. The reaction of his mother, Nancy Carlsson-Paige, he said, ''put things in perspective right away.''
''My mother saw this movie, `The Boxer' [starring Daniel Day-Lewis], and loved it. When I told her `The Boxer' didn't get nominated for anything, she said, `How can one movie get nine nominations, and a totally profound movie like that get none?''' Damon said laughing. ''And I said, `But, Ma, it was my movie!' and she said, `I know, sweetie, but it just really makes me mad.'''
Damon is also floored by the names to which he shall be forever linked as a 1998 best-actor nominee: Jack Nicholson, Robert Duvall, Dustin Hoffman, and Peter Fonda. Among Nicholson, Hoffman, and Duvall, there are five Oscars and more than 20 nominations.
''I don't want to win that award - I mean it,'' Damon said. ''I just want to go and be among them, and try and act like I belong. I can't believe I'm in this group; it's such an honor. It's like these four legendary guys - and me. It's ridiculous. Just to hear my name alongside those names, I'm going to try not to giggle.''
And receiving more than one nomination for the same film also puts Damon in the rarefied company of such actor-auteurs as Sir Laurence Olivier (''Hamlet''), Orson Welles (''Citizen Kane''), Kevin Costner (''Dances With Wolves''), Kenneth Branagh (''Henry V''), Mel Gibson (''Braveheart''), and Clint Eastwood (''Unforgiven''). Of that group, Branagh went home empty-handed.
Until his first starring role last November in ''John Grisham's The Rainmaker,'' few had heard of Damon. But when ''Good Will Hunting,'' opened last month, Damon just blew up. The reviews were great, the box office solid - the film has garnered about $68 million. Next month, Damon will be honored as ''Male Star of Tomorrow'' at the ShoWest convention in Las Vegas.
The ''Good Will Hunting'' script grew out of a writing assignment Damon received as a Harvard student. (He dropped out a few credits shy of his degree.) Damon took the treatment to Affleck, and the two eventually fashioned it into a screenplay. It would be five years of dashed hopes and haggling with studios before the cameras would finally roll.
''I think we both always felt like we would tough it out. In terms of perserverence, we're both really driven,'' Damon said. ''Being a team really helped because there was never a time when we were both totally deflated. When all the wind goes out of your sails, you lose the fight and you're cooked.''
Success has come in a hurry for both Damon and Affleck. Though neither is a film novice - Damon appeared in ''Geronimo'' and ''Courage Under Fire, '' and Affleck was in ''Chasing Amy'' and ''Dazed and Confused'' - both in the past six months have become arguably the hottest young actors in Hollywood. Damon has finished shooting his title role in Steven Spielberg's war drama ''Saving Private Ryan,'' also starring Tom Hanks, and is working on John Dahl's ''Rounders.''
He and Affleck, who is wrapping the big summer blockbuster ''Armageddon'' with Bruce Willis, begin work next month on Kevin Smith's ''Dogma.'' Then Damon takes on the smooth-talking killer of Patricia Highsmith's ''The Talented Mr. Ripley,'' to be directed by Anthony Minghella. He'll star opposite Gwyneth Paltrow, Affleck's current squeeze.
With the big night still weeks away, Damon is trying to brace himself for the onslaught of Oscar prognosticators. But regardless of what happens when those envelopes are opened March 23, the cliche, he said, is true: The nomination is the real honor.
''I already won. People say that all the time, but watch me not win, and the smile will not leave my face, I promise you, '' he said. ''This is the most unbelievable feeling - I'm going to the Academy Awards.''